5 cryptocurrency cards in the market
The VHCEx community members in our Telegram chat discussed what was the best options for holding cryptocurrency on a bank card. Some within the chat mentioned the lack of convenient ways to spend crypto on a daily basis as crypto is still not as widely accepted around the world as we would like it to be. Hence, a crypto card would be a convenient solution.
What is a Crypto Card?
A crypto card is any credit or debit card that supports at least one cryptocurrency. Crypto cards will offer you the flexibility to spend your digital assets without going through the process of cashing out your cryptocurrency into a fiat before spending it.
Here is a review for 5 available crypto cards.
#1. Wirex – It is only valid in the European Economic Area (EEA), but it does offer its users an online-only account in several other countries excluding the USA and China. It is one of the few crypto cards in the market that provide rewards for in-store purchases, where it provides users with 0.5 percent via its unique Cryptoback service. The amount you can earn as cashback is unlimited, and the service does not attract additional fees.
Just like a regular debit card, Wirex allows for in-store as well as online transactions provided Visa cards are accepted.If you're looking for a card that accords you generous spending, Wirex daily spending limit is set at $10,000, but you can only access $250 daily through ATM withdrawals.
However, Wirex's does not come with as many features as most of its direct competitors, but it makes up for that with a pocket-friendly monthly management fee of only $1.50.
#2. Cryptopay – Cryptopay is arguably one of the oldest debit cards in operation today, available in Singapore, the UK, Russia, and a host of other European countries. It is available in either a virtual or a prepaid card. The virtual card can only be used for online transactions, while the card is applicable for ATM withdrawals and shopping.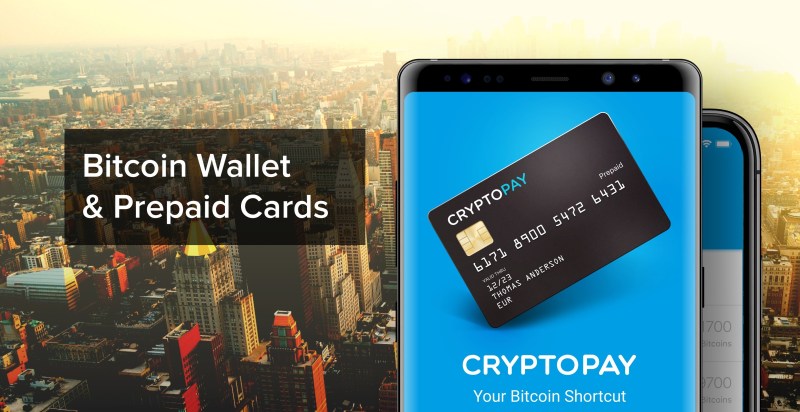 The physical crypto card costs $15 while the virtual card goes for a meager $2.50. Both cards can be ordered in USD, EUR, or GBP, attracting a monthly maintenance fee of $1.
Usage limits for users depend on the verification status, where unverified customers have limited usage. For example, unverified customers cannot send more than 1,000 Euros online, and can only withdraw 400 Euros from ATMs per day. Verified customers, on the other hand, can send as much money as they wish online, with a daily ATM withdrawal limit of 2,000 Euros.
#3. MCO Visa – Probably the newest entry in the market, and a breath of fresh air for constantly-traveling customers. Customers can enjoy zero monthly fees, market-leading free currency conversion limits, and an incredible 5 percent cash back on purchases.
As opposed to charging a monthly subscription to qualify for rewards, the MCO Visa only requires you to earn lockup MCO tokens with time so you can benefit from the premium rewards. Lockup amount ranges from between zero and 50,000 tokens. The demanding lockup requirements, however, have made the MCO Visa crypto card to be categorized as a premium offering, since you can only qualify for premium features after 50,000 MCO or $100,000 in lock-ups.
The free Midnight Blue card is considered to be the lowest where users are eligible to access $200 in free ATM withdrawals monthly. Limits then increase to $1,000 for holders of the Obsidian Black card, after which you'll be charged $2 for any further withdrawals.
#4. BitPay – Launched in 2016, it boasts an enormous subscription thanks to its paltry order fee of only $9.95, and zero monthly charges. The BitPay Visa card is valid throughout the United States of America, and plans are underway to make it available outside the US. The most impressive part is that US citizens can comfortably transact with their cards in several other countries.
As of now, you can load your debit card with cryptocurrency, and that will automatically be converted into US currency where you can shop or transact in any platform that accepts Visa cards. You can also load it using Western Union, or GreenDot at the cost of $4.95 for every load. It attracts no fees for domestic transactions, but you'll be charged a currency conversion fee of 3 % outside the US.
#5. SpectroCoin – The SpectroCoin prepaid card is available in close to 200 countries across all continents. It offers plenty of services to its customers, including exchange platform and online wallet. It comes in two different card offerings; virtual and physical debit cards. Charges for a virtual card is $9, while you will have to pay $50 for a physical card, after which both cards attract a monthly maintenance fee of $1.
SpectroCoin cards are loaded using cryptocurrencies, which are then automatically converted to fiat currencies whenever you're making an in-store or online payment.
Regarding account limits, SpectroCoin has two sets of cards; standard and VIP. Deposits for standard accounts are limited at $250 daily and $2,500 maximum balance. On the other hand, VIP accounts have a minimum balance and deposit limits of $5,000.
The stand-out feature of the SpectoCoin debit card is that you can make daily ATM withdrawals of up to $1,500, far more than what your ordinary bank cards offer.
Takeaways
It took innovation from different companies to bridge the gap between traditional and crypto markets to come up with solutions through crypto debit cards. This would help you channel your withdrawals from VHCEx to an easy form factor to spend. To ensure that your finances are safe, and you're making the right financial decisions, it is only prudent that you conduct your research to establish a debit card that resonates with your spending habits.